Puerto Rico and its Forest Landscape
In this section, you will find information about the transformation of the forest landscape in Puerto Rico and the importance of our biodiversity.
Puerto Rico's Forest Landscape: XX-XXI Centuries
This graph presents Puerto Rico's forest landscape in the last 40 years. It includes our rivers and urban areas.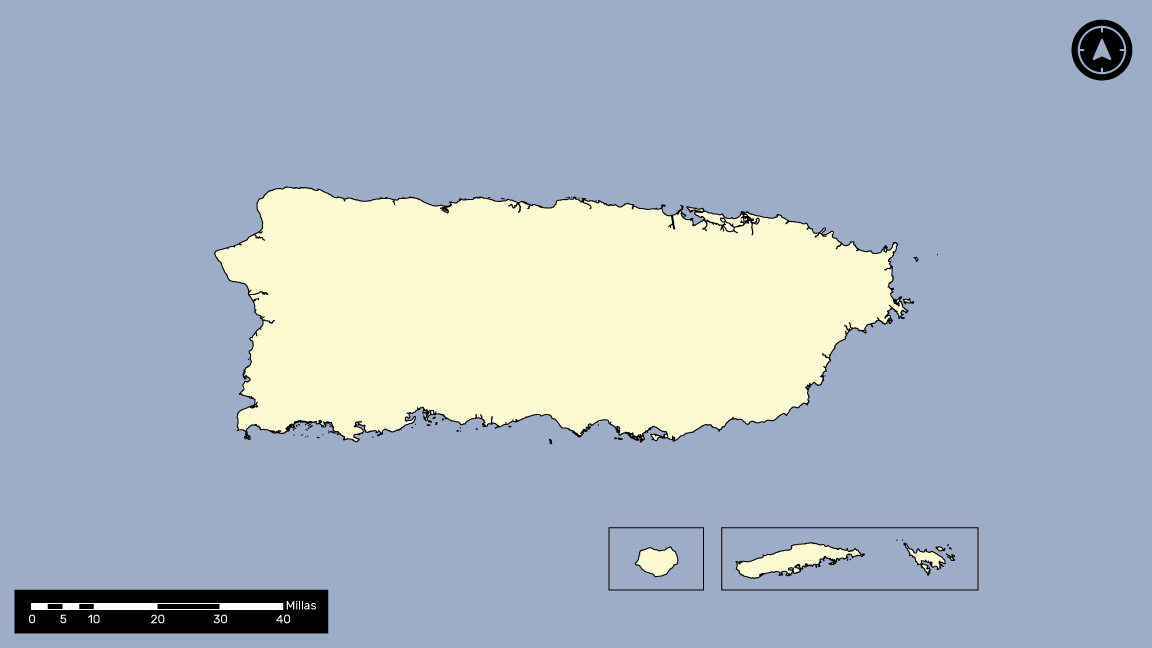 Change, change, and more change! That's how the weather, the landscape, and our bodies work. Through time, our relationship with the forest has been transforming as well. Industrial agriculture activity, deforestation, urban development, hurricanes, and climate change are all factors that impact our forest areas.
For more information about Puerto Rico, its land cover, distribution, and land stewardship, take advantage of this free resource from the Forest Service.
Have you talked to someone about your experiences in a vegetated area or a forest that no longer exists?
What about you? What memories do you have of forests or natural areas whose transformation you have observed?
Monsanto Farm in Juana Díaz
Photo: Abimael Medina for Centro de Periodismo Investigativo
Deforestation in Cerro Almirante
Photo: Cerro Almirante Vive
Coastal deforestation for the development of the Linear Walkway of Puerta de Tierra
Photo: Emma Díaz from the group No a la tala de palmas de Puerta de Tierra
Coastal erosion in Loíza
Photo: Emanuel Estrada López for Centro de Periodismo Investigativo
Satellite image of Hurricane Maria over Puerto Rico
Photo: NASA Goddard MODIS Rapid Response Team
Coastal erosion in Rincón
Photo: Leandro Fabrizi
"Biodiversity is the true wealth of peoples."
– Vandana Shiva
And what is Biodiversity?
Biodiversity is all of the variety of life and its manifestations in our planet. To completely understand it, consider the different scales in which it exists:
• the large amount of species of flora and fauna
• the ecosystem it belongs to
• the regions or landscapes where you can find those ecosystems
This wonderful animal and plant diversity coexists and interacts in a functional manner, achieving an ecological balance. Can you imagine the infinite amount of lifeforms that exist in a forest?
READ MORE
"According to the United Nations Environment Programme every country should protect at least 20% to 30% of their lands to secure the benefits of vital ecosystems and their biodiversity… The protected areas of Puerto Rico are concentrated in the high mountain peaks of the Cordillera Central and Luquillo, the wetlands of the coastal plains, and the small islands in the archipelago of Puerto Rico. These areas are relatively well protected." María Falcón (Reference María Falcón) Patrimonio Natural Episode, Geoambiente.
However, only 16% of the land in Puerto Rico is protected. This means that a high percentage of our biodiversity is without legal protection. It's not a promising panorama, since the loss of our biological wealth has very negative effects on our social, environmental, cultural, and economic wellbeing.
Some factors that threaten Puerto Rico's biodiversity and make our landscape homogeneous are:
• the exploitation of environmental and human resources
• an agricultural industry based on the use of and monoculture
• the disarticulation of natural protected areas
• the privatization of unprotected natural areas
The planet houses the greatest amount of biodiversity in the tropical and subtropical climates like the one in Puerto Rico. We have a rich biological diversity in our archipelago, and its conservation concerns us all. It's about staying connected to our natural areas, and thanks to the fact that we're here, we have that opportunity today.
"Biodiversity is the combination of the expressed differences in species, colors, textures, forms, structures, and functionings. The health of Puerto Rico is dependant upon biodiversity."
– Colibrí Sanfiorenzo Barnhard
ABOUT CLC
The Center for Landscape Conservation (CLC, or Centro para la Conservación del Paisaje in Spanish) is a Puerto Rican nonprofit corporation whose main goal is to advance participatory practices of sustainability to the scale of the landscape. To achieve this, CLC offers technical assistance and support to agencies, institutions, farmers, landowners, and community groups for the development of local projects.